Description
Edit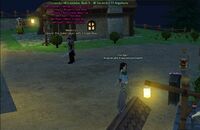 Tir Chonaill is the town that all Human characters begin in.  It is a small, largely self-sufficient town situated in north-eastern Uladh. The residents are descendants of the Partholons, the original founders of the the Kingdom of Uladh.
Located around the town square are the Chief's House, the General Shop, the Grocery Store, and the Bank. Nearby to the west, you will find a Church, a School, the docks, and some Farmland.  There is also an Inn and a Windmill.

To the north you will find the Healer's House, a graveyard, the Old Ruin, and a split path that leads to the Sidhe Sneachta snowfield or Alby Dungeon. 
Heading east, you will find a Grassland that curves around and leads to Ciar Dungeon.
South of town, across Adellia Stream, there is a Moon Gate which allows you to teleport to other towns, as well as a Blacksmith, and the path to Dugald Aisle.
North Tir Chonaill (between Healer's House and Trefor):
Edit
West Tir Chonaill (between Bank and Church)
Edit
Graveyard (near Healer's House)
Edit
Southern Plains (between Adellia stream and Dugald Aisle)
Edit
Eastern Plains (between Deian and Ciar Dungeon)
Edit
Field Boss
Edit
Ad blocker interference detected!
Wikia is a free-to-use site that makes money from advertising. We have a modified experience for viewers using ad blockers

Wikia is not accessible if you've made further modifications. Remove the custom ad blocker rule(s) and the page will load as expected.